Fri, 07/23/2010 - 12:36
Anna & Bernhard Blume "SX 70/Polaroids 1975-2000"
Anna and Bernhard Blume have been making art together for nearly four decades. Their extensive collaborative body of work primarily focuses on large format black and white photographic series of domestic scenes and ordinary objects, altered by paranormal chaos. The couple are based in Cologne, Germany and their work has been exhibited and critically lauded in their own country and abroad.
The Polaroid exhibit at the Musée Européenne de la Photographie spans a quarter of a century and is a sort of "behind the scenes" of the artists' lives and works. The photographs, organized chronologically, starts a bit like a new relationship, awkward, novel, with a good deal of nudity and playful romping about with vegetables. They also feature neat parlor tricks with light and post-production on the stills to create simple illusions. The result is ludic, banal and vulnerable.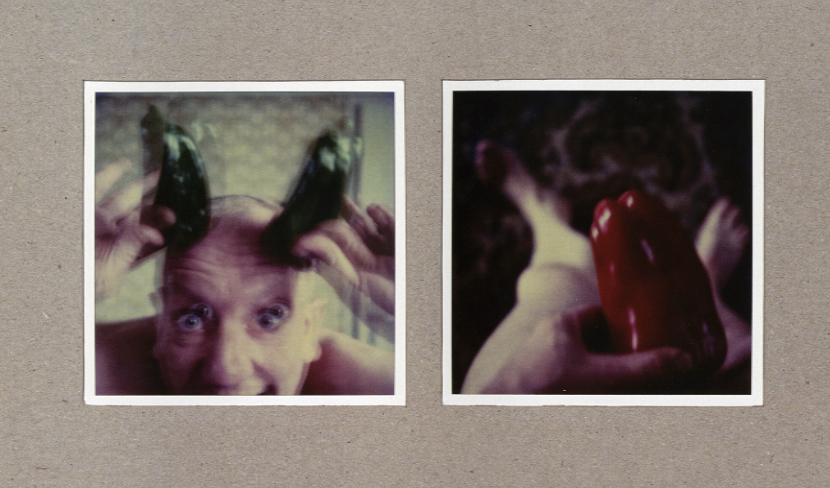 As the years progress, the accidental and spontaneous nature of the Polaroids gave way to a more deliberate and defined statement, particularly the group of photograhs of Bernhard, during the 1990s, his face completely deformed with a yellow wire, and further distorted with a careful cutting and pasting of the images. Using himself as a subject, tirelessly, is a level of vanity most viewers of the exhibit will not relate to. The monstrous result of his manipulations completely alienates him from the viewer, and the message is not at all clear. Is he creating an image of his subconscious, is he filled with self-loathing? Is he just going for shock value, or does he feel that by escaping our complicated relationships with our physical bodies authentic expression can result? By making himself uglier than he could ever be, perhaps he experiences a type of freedom from conceit that allows him to create more authentic art.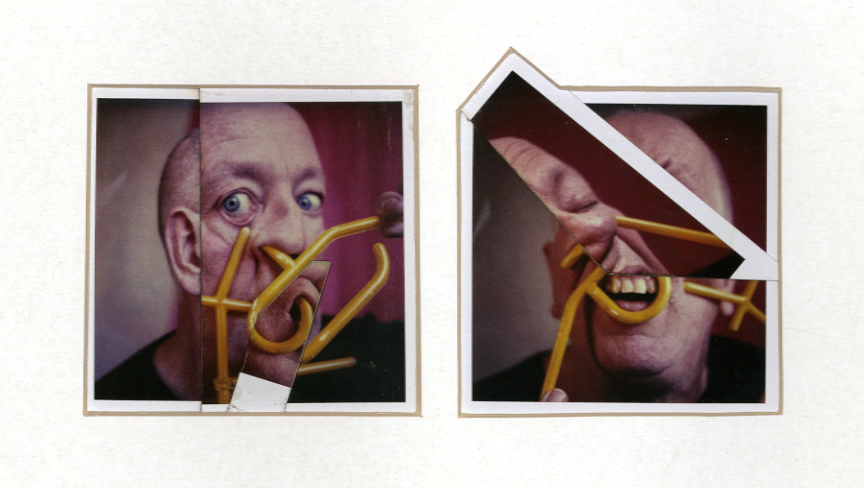 Towards the end of the exhibit is a long series of toy-like blood and very realistic dismembered human hands and fingers. The effect is visceral and repulsive, yet, clearly the artists have discovered how to communicate clearly with their one-shot camera. The work has become theatrical; setting up a scene becomes more import than the photographers' technical skill.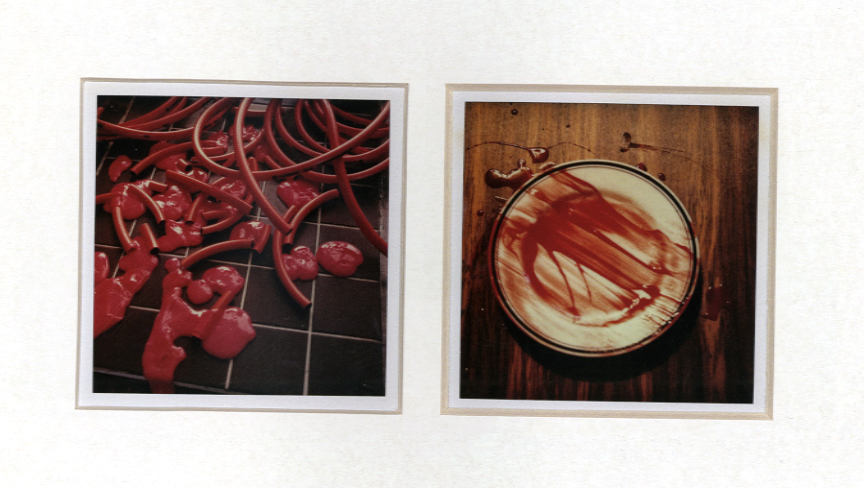 How to get there:
La Maison Européenne de la Photographie
June 23 – August 29, 2010
Why it is interesting:

An unintentional exhibition, a sort of back-stage retrospective of the artists' lives and work, the sheer volume and time span is impressive. Obsession with domestic scenes, an obvious yet ironic theme for a real life couple, is there really nothing left to examine once a long-term romantic partnership has evolved? Deliberately deforming themselves, a mixture of vanity and self-loathing. Watching the artists evolve, the complexity of their emotions, their comfort with the medium
What to look for:
The majority of the subjects in the Polaroids is Bernhard, save for a few early nude shots of Anna. However, in the couples' most famous works Anna plays the more predominate role. Who kept up with the documentation of the Polaroids and why? It is always interesting to consider the artists' intention whilst embarking upon a project and the banal nature of the majority of these photos begs the questions, why share them now?
Tags for all blogs :
Comments or opinions expressed on this blog are those of the individual contributors only, and do not necessarily represent the views of FRANCE 24. The content on this blog is provided on an "as-is" basis. FRANCE 24 is not liable for any damages whatsoever arising out of the content or use of this blog.