Tue, 09/07/2010 - 18:24
The bad boy of the photo world asks Eve Jackson if girls from Birmingham are good in bed.
At 82 can you still call someone as a 'bad boy?' I'm not sure. 'Bad' might be a bit strong but William Klein, without doubt, still has a definite glint in his eye. The artist, film-maker, and fashion photographer is best-known for his strange, exhilarating images of Fifties New York that have influenced generations of photographers. 60 years on his unique vision hasn't faded. He's this year's guest of honour at the Visa Pour l'Image photojournalism festival in Perpignan in the south of France. When we meet he pretends to be unimpressed by the event and the work that he's seen– it's only later he confesses to finding it interesting and says it's a delight to be there. (Something he'd probably deny if you asked him.) His work is startlingly different to all the other work on show.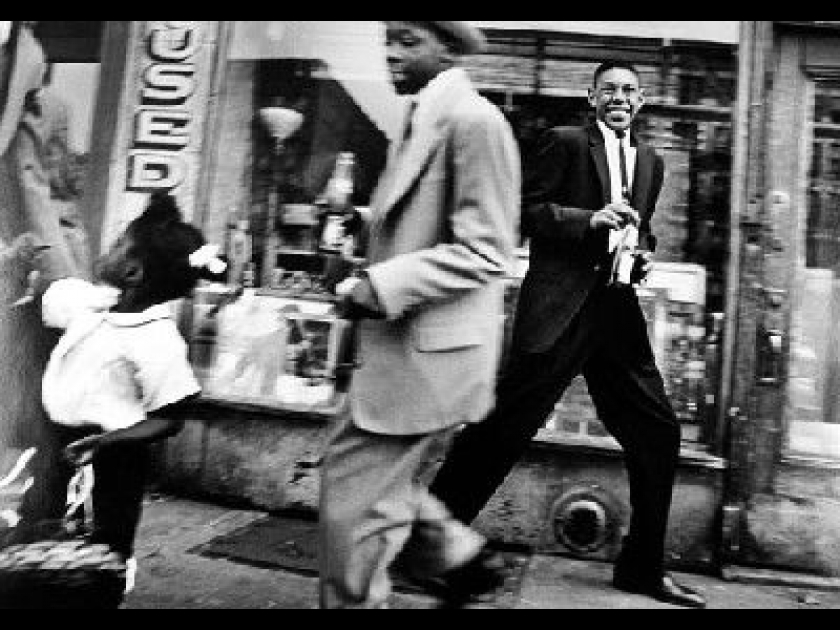 Klein has the reputation of being a difficult man. He doesn't suffer fools. 'He's a tricky one to interview' I was told on more than one occasion before our chat. Sitting in the courtyard of Perpignan's town hall he tells me that my home town of Birmingham is one of his favourite cities. He doesn't smile – just waits for my response. I tell him that like him I'm an ex pat who has been adopted by Paris. He's lived in the French capital for nearly all his adult life since he came from New York as a young GI and met and fell in love with a Parisian.
The cameras start rolling and I ask him why he's the guest of honour at a photojournalism festival when he is not and never has been a photojournalist. In fact he's never been interested in photographs that just tell a story; he came from the art world, interested in the abstract. For him the results were always a surprise. I never find out the answer as he cheekily and deliberately mishears me and accuses me of saying that he's not photogenic. I smirk and carry on.
He tells me how he won his first camera in a poker game when he was a soldier in occupied Germany before settling in France. But it was as a 25 year old in the 50s that he made his mark. In 1954, Klein returned to the US where he started making abstract art. It was then the artistic director of American Vogue Alexander Liebermann, suggested he became his assistant at the magazine. They soon realised however that Klein, with his slightly challenging attitude, would not last five minutes in an office. Instead Liebermann asked him to come up with a photographic project and then gave him a contract, with an expense account for film and paper to print his pictures. Klein's idea was to make a photographic journal of New York, "with one American eye and one European eye" as he puts it.
The pictures were chaotic, showing New York's busy street life. The frame was filled to the max with different actions and emotions. They were beautiful. Klein's sense of composition was new and innovative – and no one liked it. For many this was not photography, nor was it New York. It was never published in Vogue but instead made into the now famous book 'New York is Good and Good for You.' He then went on to produce a book about Rome, followed by two more on Tokyo and Moscow. At the festival a selection of the work he did on these four cities is being shown.
As the interview draws to an end Klein once again becomes restless. He cheekily looks me straight in the eye and asks me if girls from Birmingham are good in bed. I laugh and say I have no idea, I've never slept with one. What do you say when an legendary photographer in his 80s asks you such a question? I shake his hand and he tells me my accent is so strong he could hardly understand me. 'How did you ever get a job in television?' he asks. And then he smirks as I laugh. The interview's over.

Tags for all blogs :
Comments or opinions expressed on this blog are those of the individual contributors only, and do not necessarily represent the views of FRANCE 24. The content on this blog is provided on an "as-is" basis. FRANCE 24 is not liable for any damages whatsoever arising out of the content or use of this blog.